The Basque group Innovalia leads BOOST4.0 project, an initiative of € 20 million to improve the competitiveness of the automotive sector through Big Data.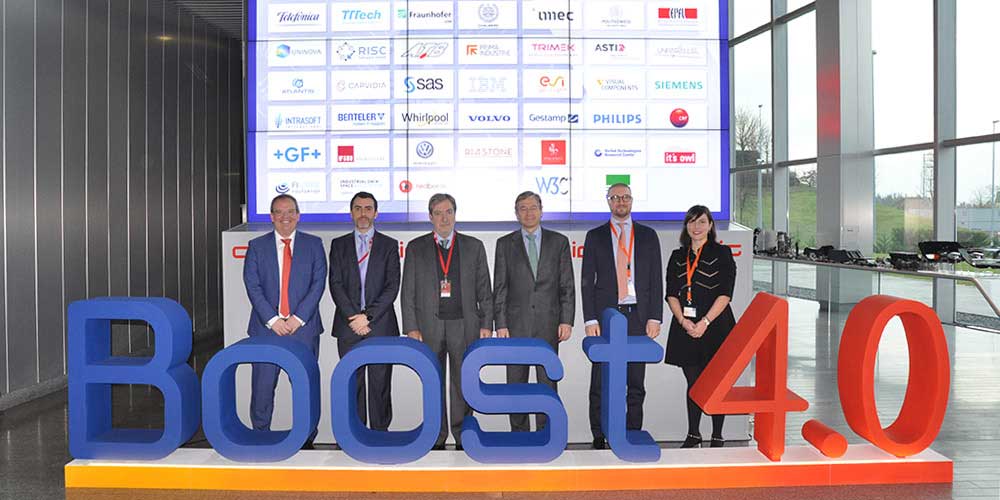 On Jan. 30th, one of the biggest Big Data initiatives in Europe has started at the AIC-Automotive Intelligence Center, aimed at the 4.0 industry, and represented by the main automotive manufacturers as participants. Boost 4.0 is led by the Basque industrial group Innovalia. It is a project that has been managed to form a great team with the main European industrial companies including Gestamp, Volvo, Volkswagen, Capvidia, Philips, Siemens, IBM, and Telef'ónica among many other representative companies of the European Industry.
The Boost 4.0 initiative will establish a set of smart and connected factories in Europe that will play a role of a guide and beacon for European industry. Boost 4.0 is an initiative that enables collaboration between the largest European industrial companies and with € 20M financing. The project will last 36 months with an associated investment of € 100M. This initiative will accelerate the adoption of Big Data and advanced analysis solutions in the European Industry thanks to standards, platforms and open APIs.
During the opening day, not only the presentations by the main representatives of the companies involved in the project, but there have also been special interventions such as  Mario Buisán (General director of Industry and Small and Medium Enterprises, under the Ministry of Industry, Economy and Competitiveness) who has highlighted the main aspects of the National Strategy of Connected Industry 4.0, and Francesco Barbato (official representative of the European Commission) who has presented the forecasts of the impact of Boost4.0 on European Industry.
The event ended with a presentation by Arantxa Tapia, the Regional Minister of Economic Development and Infrastructures of the Basque Government, who pointed out the importance of settling the projects in Basque for the continuous development of the automotive sector that is vital for Euskadi (Basque country).
The day came to an end with a guided tour of the Smart Factory inaugurated last week in the AIC and the center of excellence in quality control of Innovalia Metrology, in which all attendees could see another version of the management methods of highly advanced quality with a technological projection that allows us to speak of digitalization in all industrial processes.